Blog
Exporting Your GeoCAAB As-Built to AutoCAD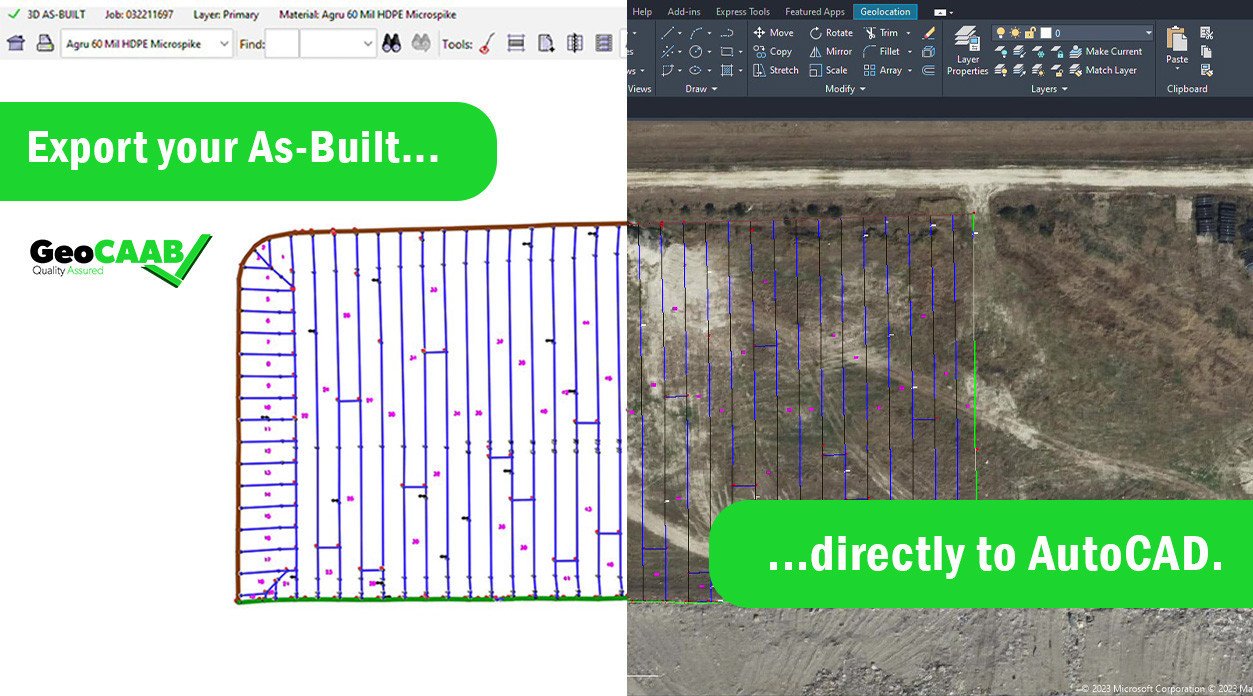 Being able to easily export an As-built to AutoCAD is a valuable tool for any engineer or contractor working on a Geosynthetic project. GeoCAAB utilizes GPS Mapping to create accurate As-Built renderings of your Geosynthetic installation in real-time. But it doesn't stop there. One of GeoCAAB's many user-friendly features allows users to quickly and easily export their As-Built to AutoCAD. Some of the benefits of using GeoCAAB to export your As-built to AutoCAD include:
Accuracy: GeoCAAB's As-built export feature uses the latest surveying data to ensure that your AutoCAD drawings are accurate and up-to-date.
Speed: GeoCAAB can automatically generate AutoCAD drawings from your As-built data, saving you time and effort.
Accessibility: GeoCAAB's As-built export feature allows users to instantly compare plans and data in different formats. 
With GeoCAAB, this kind of convenience and accessibility is as easy as one, two three. To export your GeoCAAB As-built to AutoCAD, simply follow these steps:
1.) Open your project layer and materials in GeoCAAB.
2.) Select "Export to AutoCAD" from the "File" drop-down menu.
3.) Click save, and your As-Built is ready to view in AutoCAD.
GeoCAAB instantly generates the AutoCAD file to be viewed and compared as needed. That means your data is available to all clients and contractors, even if they don't have GeoCAAB. This feature is just one of many developed increase the accuracy, quality, and ease of generating reports for Geosynthetic projects.  
To see one of our As-Built's as an AutoCAD file, visit our YouTube Channel for a side-by-side demonstration.
GeoCAAB: Experience the Next Revolution in Geosynthetics - We are a Computer Aided As-Built software, built by the field, for the field, that utilizes GPS mapping to maximize efficiency, accuracy, and organization. 
Follow us on Social Media! LinkedIn | Facebook | Instagram | Twitter | Youtube
Subscribe to our Blog - Click Here
Contact Us: 1 (888) 401-5196 | Contact Form